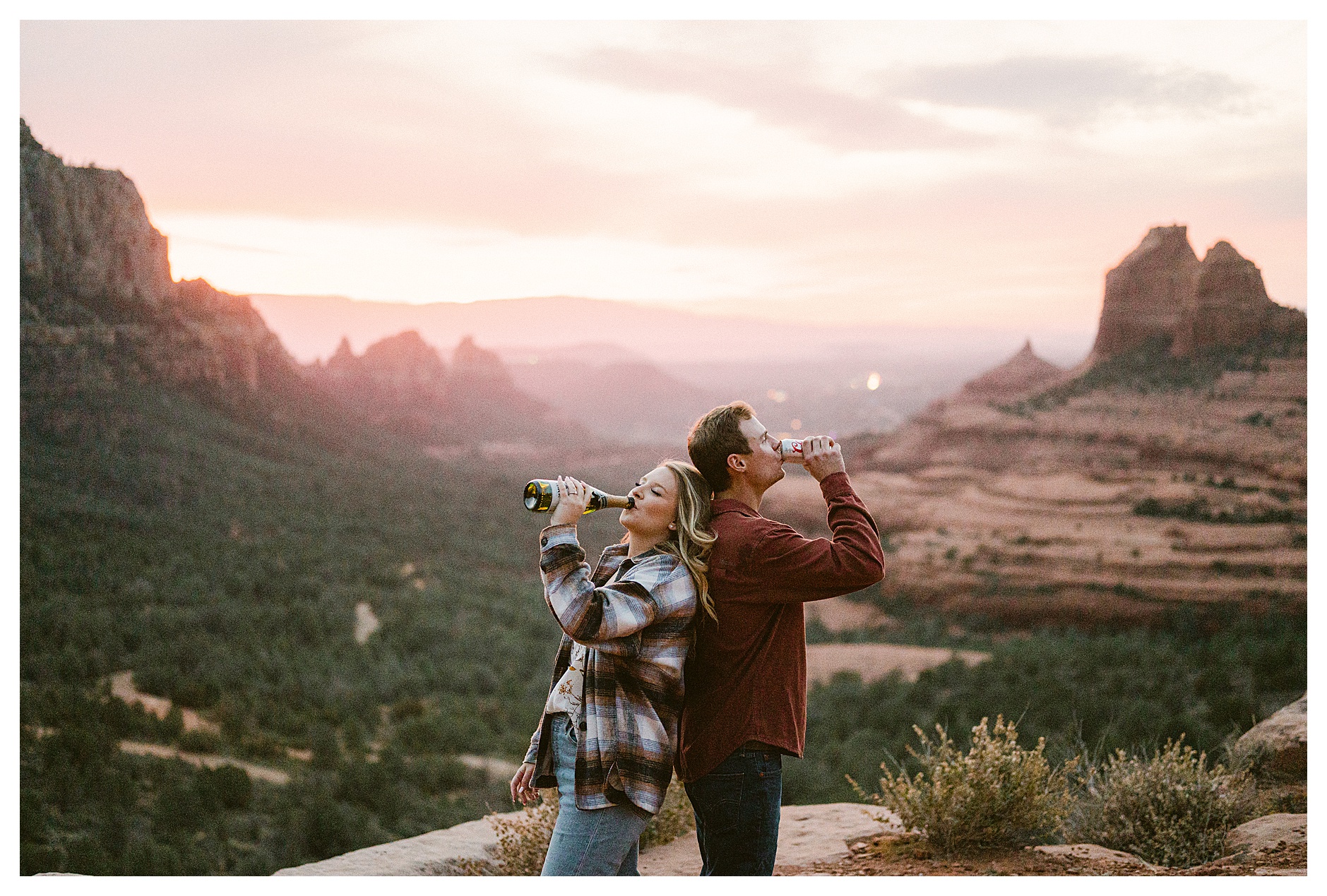 Hayley and Brady chose to celebrate their engagement by having an adventure in Sedona, Arizona. They left the Minnesota cold behind and enjoyed the Sedona views with both mothers, Hayley's sister Cierra and of course, one lucky photographer… me! We found a Sedona Jeep rental company, MYE (Make Your Expedition) and chose to do a self-guided adventure so we could have the freedom to take our time up the mountain and enjoy the sunset at the iconic Merry-Go-Round rock. It was a bumpy ride, but like most things in life, the challenges along the way made the views all the more worth it!
Why Did You Choose Sedona For Your Destination Engagement Session?
My sister Cierra goes to college in Phoenix, Arizona so it was the perfect opportunity to visit her while also having the opportunity to do something fun together to celebrate our engagement. We considered Colorado since I went to college there, but decided we would enjoy the experience more if we weren't cold. If you leave Minnesota in the winter time, it's usually to get away from the cold!
How Did You Meet and How Did He Propose?
We met when we were very young. Our parents were long time family friends. We started to date in high school. Being so young we had to do some growing up together, but after surviving a long-distance relationship while I attended college in Fort Collins, Colorado, I knew we could handle a lot. He proposed on August 7th, 2020 and I happily said yes. He truly is my best friend and I feel lucky to have found him so young.
What Was The Best Part Of Your Sedona Adventure?
I loved being able to take the jeep up the mountain, and getting to see the incredible sunset. Exploring Sedona with our family, and Trisha;) made it a really fun and memorable trip. I highly recommend stopping in Cottonwood on your way there or on your way back to Phoenix and eating at The Colt. It was delicious !!
~ Hayley
Destination: SEDONA, ARIZONA Photographer and Guide: XSPERIENCE PHOTOGRAPHY | Jeep Rental Company: MYE JEEP, SEDONA
CLICK HERE to see a Sunrise Hiking Elopement in Sedona.