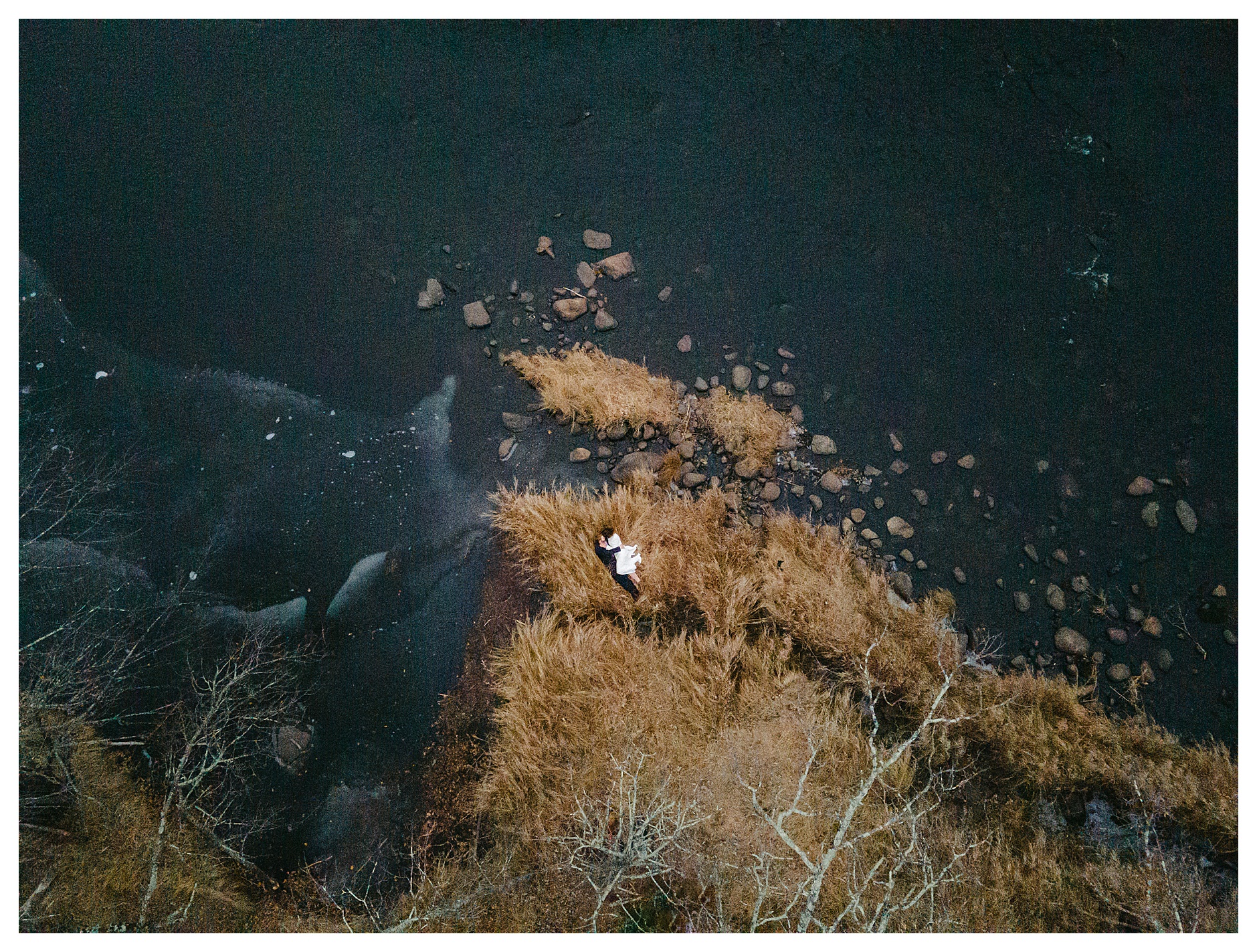 There's a fleeting moment when Minnesota transitions from Fall to Winter. The air has a crisp chill to it. Nature is subtle in appearance, filled with soft earth tones as the last of the leaves fall to the earth. It's a slower pace than the previous couple of months when Minnesotans cling to the last of warmth and prep for a long winter season ahead. Only the most daring couples who thrive on the mysteries of the unknown plan a wedding or elopement in late November / early December in Minnesota. You could be out hiking in the sun, or snuggled up by the fireplace as a blanket of snow paints the exterior.
The good news is, this A-frame located in Central Minnesota provides an atmosphere that works with both those scenarios. A trail to the river makes for a nice walk in nature or a quick photoshoot with your pup (yes, it is dog-friendly !!) and the updated modern design inside is cozy and warm, perfect for a sweet date night with your love .
IDEAS TO MAKE YOUR WINTER CABIN ELOPEMENT FUN + PHOTOGENIC
cook your favorite Marnanteli's pizza
hire a private chef or have dinner delivered and styled by ELOPE WEST
read a book
take a walk or hike down the path
ice skate if frozen or sled down the hill
serenade each other with the guitar provided
card games or cribbage
bedroom or couch snuggles
campfire
s'mores
sparklers
THE HAVENS CABIN 'STYLLE HYTTE'
The Havens A-frame cabin in the woods is named Stylle Hytte, which is Norwegian for "quiet cabin". It is the perfect name for this nordic-inspired cabin in the woods situated on 10 acres in the middle of nowhere (but only an hour north of the Twin Cities). The private river front space is my personal favorite for some epic wedding photos. Keep it simple and classic, or glam it up to suit your style. Either way, the intimate setting will make your wedding or elopement a personal reflection of your true personalities while giving your photographer a backdrop for art-worthy memorabilia.
Learn more about The Havens property and book your stay HERE.
Photographer and Videographer: XSPERIENCE PHOTOGRAPHY | Planning: ELOPE WEST | Cabin Venue: THE HAVENS, Mora, Minnesota | Bouquet: FARMGIRL FLOWERS, online floral delivery
More winter elopement inspiration in Minnesota…
Horse Farm Winter Elopement
Black Beach Elopement with Dogs
Rice Creek Countryside Winter Elopement
Ice Fishing Elopement
Igloo Elopement at Grand View Lodge